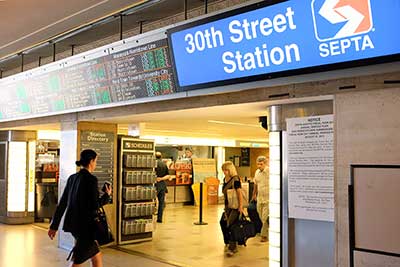 The Selected Alternative recommends enhanced service concepts to guide the NEC rail operators toward more opportunities to integrate services and efficiently use existing and planned infrastructure. These enhanced operating concepts represent national and international best practices, and are aimed at enhancing the attractiveness and convenience of train services, increasing the efficiency of operations, lowering the cost per capita of delivering rail service, and making the most efficient use of investments in new rail infrastructure, while providing flexibility for rail operators to deliver service that best meets the needs of the market in 2040. Examples are described below.
Regular Clockface Schedules
The Selected Alternative allows for the implementation of regular schedules for train services operating on the NEC. Trains would operate at repeating intervals every hour throughout the day (e.g., half-hourly on the 0:15/0:45). The repetition of a daily pattern allows passengers to memorize the train schedules, making the service easier to use.
Improved Intercity-Corridor Train Service
The Selected Alternative includes improved Intercity-Corridor train service using high-performance train equipment capable of serving additional Regional rail stations, with schedules the same as or faster than today's service. This improved Intercity-Corridor train service is represented by Metropolitan service in the NEC FUTURE Tier 1 Final EIS. The Metropolitan-type service also introduces frequent headways (15 minutes) and unreserved seating that allows passengers to arrive at the station and catch the next train without having to pre-book.
Run-Through Service at Major Stations
Regional rail run-through service, particularly applicable to Washington, D.C., and New York City, links branch lines from the different regional service operators and provides continuous revenue service on both sides of the metropolitan region through the Central Business District. It enables passengers to avoid transfers when traveling from one regional rail station to another through stations such as Penn Station New York and Washington Union Station. It also provides reduces dwell time at stations and reduces the number of train movements.
The Selected Alternative provides through running opportunities at both Washington, D.C. (VRE and MARC trains) and New York City (MNRR/LIRR and NJ TRANSIT trains). Through operations not only enhance connectivity for passengers and expand capacity, they make for more efficient use of trains and storage areas.
Coordinated Endpoint and Branch Line Connections
This includes the coordinated scheduling of Regional rail trains on systems that have multiple branch lines or multiple terminals, or where the outer ends of two Regional rail systems meet at a common station (defined as endpoints). This enhanced service concept provides for convenient passenger connections, extending the reach of the existing systems, substituting for costly extensions for one-seat-ride service, and providing a much more convenient transfer experience for rail travelers. The Selected Alternative takes advantage of opportunities for better connected Regional rail service at several locations on the NEC, effectively closing the gaps that now exist in Regional rail connectivity from one system to another. The Selected Alternative also improves connectivity between main line and branch line services at multiple locations.
Pulse-Hub Operations
A pulse-hub is a special application of service coordination, where multiple trains converge on a single hub station concurrently or in close succession, dwell simultaneously for a period of time while passengers transfer from one service to another, and then depart toward their various destinations. The Selected Alternative allows for pulse-hub operations at Philadelphia 30th Street Station, where passengers will be able to transfer between a highly coordinated network of Intercity and Regional rail trains, as well as at New Haven Union Station.